Should You Dress Your Sex Doll Up In Clothing?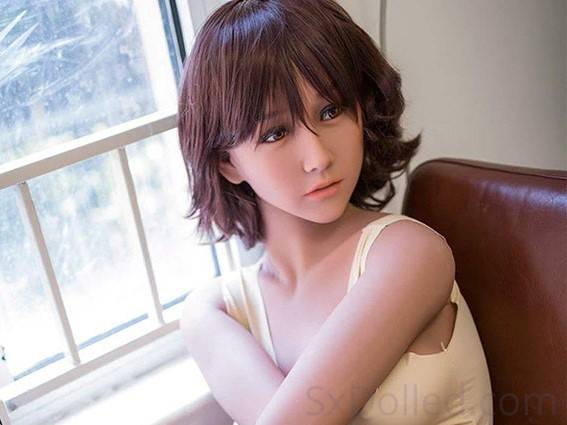 Subscribe To The SxDolled Blog
Join our mailing list and never miss an article or deal!
If you want to have more sensual sex and for your love doll to be more visually appealing, then you can opt to dress up your sex doll. From the very start, you can pick your sex doll's eye shading, haircut, and the shade of her skin, you can even pick your sex doll's body shape (that way you can make your sex doll the most visually appealing and beautiful according to your tastes). She can be anything you need, from an exacting educator to a seductive young business lady. There is truly no restriction to your creativity, you will need to explore how to modify your sex doll to have it the way you've always wanted it to be.
Yes, you should dress your sex doll up in clothing:
1) Dressing up your sex doll can enhance visual appeal and make intimate sessions more exciting.
2) Consider the size of clothing needed; avoid tight or non-stretchy clothes that could damage the doll.
3) Choose outfits and lingerie based on your fetishes and preferences to set the mood.
4) Switching up wigs can drastically change your doll's appearance and aesthetic.
5) Additional modifications like cosplay outfits, jewelry, and makeup can enhance your doll's attractiveness.
6) Be cautious with certain products and accessories to avoid damaging the doll's skin.
7) Follow guidelines for makeup and nail polish application, avoiding liquid or cream makeup on the skin.
8) Proper storage is essential to keep the doll safe when not in use.
Factors To Keep In Mind When Dressing Up Your Sex Doll
Unlike real humans, it's not very practical to take your doll with you to the store to try new clothes on. This often means it's paramount to know which sizes of clothing you need before you begin. With full sized and realistic dolls, it's a much simpler process. Most dolls will be around 5ft to 6ft in height and depending on the weight and body type preferences you chose when you ordered your doll their sizes should be quite simple to work out. Most sex doll manufacturers stick with size S women's clothing to dress their realistic sex dolls (though this is generally the case, this is subject from doll to doll), so ensure you don't purchase anything too oversized (unless that is what you're going for). The largest problem to watch out for are the breasts of your female dolls, in these cases you might even need to shop at specialist stores for bustier women if you have a particularly busty doll.
Underwear, provocative play outfits, cosplay outfits, there are a million different outfits you could dress up your sex doll in. When you want to move your sessions to the bedroom and want to proceed to have intercourse with your love doll, you should dress your sex doll up for the occasion to set the mood, this is especially true for the type of underwear your doll will wear. Make sure you only dress up your sex doll in all the best garments for both your doll's longevity and your own physical and visual enjoyment.
Which sex doll clothes will turn you on will entirely depend on your fetishes. If you feel that your sex doll looks hot with her nipples poking at you from her transparent top, go for revealing clothing! On the other hand, if you find panties exposing your sex dolls ass, by all means, go with some short shorts. These sex doll clothes can be very effective in providing your sex dolls bold and stunning looks.
If you're not confident in what you would like to dress up your doll in, it's always a easy to have a quick look on the internet. Finding clothes to match your fetishes won't, in more cases than not, won't prove a struggle as all it takes is a simple search for online to find sites from all around the world to order clothes that will fit any type of fetish or clothing you desire. Any garment or clothing store should work, for casual clothing or if you are in more steamy and seductive outfits, you can search online, as aforementioned, for exactly what you are looking for to spice things up. And trust me there is an assortment of incredibly hot stuff out there!
Just by searching online or even observing real women that have the same physique as your doll will inspire you with dozens of outfits and ideas instantly! For example, why not delve into the world of lingerie; corsets, bustiers, stockings - they are all an essential part of the wide world of sexy lingerie. Can you imagine your sex doll wearing a sexy corset or spreading her legs in the seductive lace stockings and a pair of nice stilettos or high heels? Just imagining this would drive anyone crazy!
You'll want to look for easy to slip on clothing like button down blouses, bras that fasten in the back or front and wrap around dresses. You'll want to use baby powder on your sex doll so clothing easily slip on and off. You could even opt to change up your sex doll's look completely by using temporary (non henna) tattoos, costumes and different make-up looks. Use baby oil or mineral oil for make-up and glue removal. Look for jeans, leggings and other clothing with a Lycra, stretch blend. Always wash all clothing before dressing your doll in them to prevent any dye transfer. Additionally, seek light coloured clothing as an added preventive measure against dye transfer.
Keep in mind, that it is your love doll, and you can change or dress her up in any way you see fit. Don't constrain yourself. However, be cautious when buying clothes and low quality garments (or completely stay away from low quality clothing) that could leave hard-to-remove stains on your sex doll's skin. On the other hand, the wigs of TPE and silicone sex dolls surprisingly handle stains well and are much simpler to clean and remove stains out of.

In addition to making your doll look sexy, dressing her to look this way also allows you to express your sexuality in a way that you're is unlikely to find in adult material, such as books and magazines. Your sex doll can literally be anything you want – from a strict teacher to a beautiful country girl. There is no limit to your imagination.
The face and overall head are the most prominent part of all human beings, it is the first thing you will notice and the most prominent aspect you will always remember when meeting new people. The same goes for your
sex doll
, when you are looking to purchase a sex doll for yourself you should seriously consider and ensure you customise your sex doll's face and head exactly to your personal needs. This is especially true with picking out her hair, this is because you can completely change her look and aesthetic just with her wig/hairstyle, choose a hairstyle that is the most physically appealing and sexy according to your taste.
Consider purchasing your realistic sex doll two or three unique and different wigs so that you may switch them out whenever you feel like it, trust me, this will make a huge difference and you will love the variety. Each new wig will give her an alternate look and aesthetic. For example, when you are dressing her up as a young business lady, you might want to pick a professional-looking wig would be your most logical option or when you want a more extravagant or incredible look a bold pink or even multi-coloured wig is what you'll want. In any capacity, getting two or three distinctive hair hues and styles will be a significant choice. There are any assortment of hairstyles for you to choose from, such as messy buns to ombre hair to curly to braided to pigtails to pixie or even short hair, the styles are endless.
Additional Modifications To Consider
Design her to resemble your preferred motion picture, or your favourite computer game or anime character. Japanese anime and manga cosplay garments are even sold widely on the web. Stockings are a great consideration if you believe you won't care for the sex doll's feet, stockings can act as a low-level sort of protection for your sex doll.
If you want to enhance your sex doll's attractiveness, then you should consider some jewelry for her. Earrings, necklaces, rings and bracelets all help enhance the attractiveness and bring out the character of your sex doll. The addition of the right accessories can really make all the difference.
Find the right makeup products, when you are dressing up your sex dolls, you should also consider makeup products as a touch of makeup will elevate the look of your doll tremendously, however be wary of the types of makeup you use and if you doll is compatible with makeup otherwise this could be a one way ticket to destroying your beloved doll.
Lastly, purchase your sex doll some suitable storage to place your doll into that when not in use so that it can be safe at all times.
Here is a quick and simple list of absolute fashion no-no's for your sex doll:
Do not choose clothing that's too tight and doesn't stretch. These types of clothing can leave dents or worse damage your doll's skin.
Do not put perfume directly onto your sex doll's skin, it will damage the skin of your doll. Only apply perfumes lightly onto the clothing or hair.
Do not force your doll's arms and legs into unnatural positions while dressing her. You could potentially break her internal skeleton.
Do not use make-up removing wipes, baby wipes or towelettes on your doll. Only use recommended and approved products.
Do not use acetone nail polish remover on the nails of your doll, if this compound makes contact with your dolls skin it will damage the skin.
Do not change your doll's eyelashes whilst your dolls eyes are still in their sockets. The glue can ruin her eyeballs.
Be careful with buttons, grommets, snaps and studs when dressing your doll. They could potentially scrape, scratch and damage your doll's skin.
Do not use liquid or cream make-up products of any kind on your sex doll, these products can absorb into your dolls skin and cause staining.
Do not store your doll in clothing or jewelry.
To conclude, it is vital that you design, modify, and dress up your sex doll up to be most appealing to you, as this will be key to your joy and visual stimulation. Have fun with her, and don't be afraid to spend a little to purchase her quality garments and outfits, including her hair/wig colours and styles.
Additionally, your doll through its clothing and accessories expresses itself. There is not much to explain or understand if you are someone who really appreciates your doll partner. These clothes, accessories, and customisations we have discussed in this article is a crucial way to mold your sexy doll as per your desires. It could be safely said that this small exercise even creates a sort of connection between the you and your love doll, one that transcends mere sexual craving.
Sex dolls are a simple solution to meet your needs physically and emotionally. Whether you require a curvy or slim doll or a busty or flat doll, there is a sex doll out there for you and if there isn't we'll simply customise one for you! Buy your sex dolls with us today!
We offer free shipping and delivery with all sex doll orders.
We only collaborate with certified sex doll manufacturers, who produce the best sex dolls in the world. We only supply the most realistic and high end silicone dolls and TPE dolls made on the market.
What are you waiting for? If you need help customising your sex doll, please contact us via email.
Want to see us stock a specific type of sex doll or other sex toys? Contact us and let us know!